PEEK Funnel Tip

This Event Occurred in April of 2012
Molding a pipette-shaped part with a .015" wall x .372" long followed by a .008" wall x .100" is challenging enough by most mold and molding standards. Add to that molding these micro parts from VICTREX® PEEK 90G (polyetheretherketone) material, selected for its high strength properties needed by the customer, and the challenge is even greater. Now, how about doing this in a 4-cavity mold? An 8-cavity mold? Can a Cpk of 1.33 be achieved on this wall section? These are the challenges and questions Mold Craft set out to address when a customer came to them with this medical "funnel tip" component. However, this project could not have been accomplished successfully without Mold Craft's partners in mold fill/material flow simulation, Meltflipper® technology and a molding press designed for micro molding.
Sodick Plustech LP20EH press high cavity mold sides A & B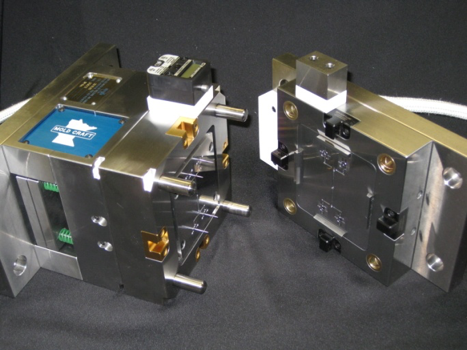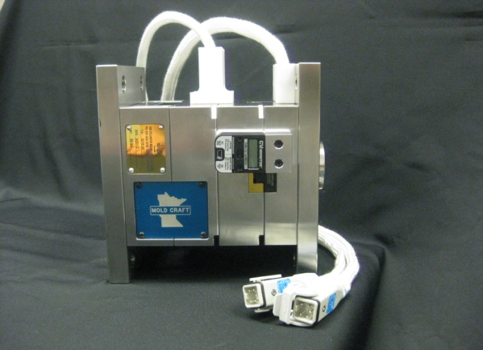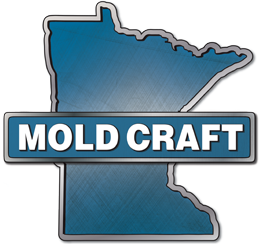 Designing & Building Precision Injection Molds
Mold Craft created this small, thin-walled part with different surface finishes, special cavity inserts, and very tight tolerances. This part demonstrates Mold Craft's Design for Manufacturing (DFM) capabilities, small pitch features within the cavity and ability to maintain tolerances as tight as ±.0001" resulting in crisp detail and interchangeable cavity inserts.

Sodick Micro Injection Molding Machines
Sodick Plustech (Yokohama, Japan) is a global supplier of high-precision injection molding machines. The company developed its own design of V-LINE Two-Stage Plunger Style injection molding machines in 1988. Sodick Plustech offers horizontal machines (thermoplastic, LSR) from 5 ton-650 ton and vertical machines (thermoplastic, LSR) from 20 ton-150 ton. www.plustech-inc.com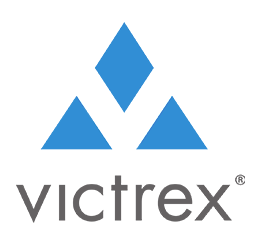 Victrex Polymer Solutions
Victrex Polymer Solutions is exclusively focused on the development, manufacture and sale of high performance polyaryletherketone-based products such as VICTREX® PEEK polymer, APTIV® Films, VICOTE® Coatings, VICTREX Pipes™, and VICTREX PEEK polymer for Composites. This advanced polymer product family includes standard pellet and powder grades for injection molding, compression molding, and extrusion, as well as specialty compounds to meet your application designs and developments. For over 30 years, Victrex has consistently delivered quality products and services to customers globally. www.victrex.com.