Injection Mold Design
Deliberate design, deliberately collaborative
Mold Craft's injection mold design team works collaboratively with you to create a long-lasting mold that produces consistent results time after time.
Our Injection Mold Design process
Our injection mold design process starts with collaboration. We know we need to understand your needs to create a mold that fits them. That's why the first step in our mold design process is completing our Mold Specification document — four pages of questions designed to give us a complete picture of your injection molding needs.
Scientific Mold Design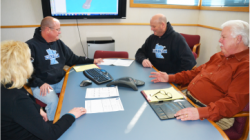 Once we understand your needs, our mold design team brings our signature attention to detail and innovation-focused attitude to create a CAD model of your mold in SolidWorks.
We design molds that work — on paper and in practice. Why? Because it's good for us and good for our clients. Our in-house injection mold design team communicates closely with our injection mold shop team to find out what works and what doesn't. And because they're designing a mold with the mold builders in mind, they design it to work. This means the mold is a success the first time around. And there's no need to rework a design that isn't practicable in the mold shop.
We employ scientific mold design principles in our injection mold design process. We test everything, and we offer analysis and recommendations for every aspect of injection mold development. From flow analysis to runner and gate sizing to cooling analysis to venting recommendations to temperature and pressure sensor recommendations, we'll look at every aspect of injection mold design to ensure a mold is as close to perfect as possible.
Injection Mold Design Review
After we've completed our mold design, we schedule a review meeting with you. We'll go through the mold design piece by piece, making sure you're on board with every design decision. If you have questions, we'll answer them. If you have concerns, we'll talk about them transparently. Our highest priority for the review meeting is knowing you're satisfied with the design before it goes into production.
Once you've signed off on the mold design, it's time to kick off the production process!
Maintaining the Mold
After we've created and shipped a custom injection mold, we archive the records for that mold. Then we keep them for ten years. If you need a replication of that mold, or if you need its specifications, they're always available to you. This is our way of adding long-term value for our clients and maintaining collaborative relationships even after the mold has shipped.
Want to work with us?
Is our collaborative injection mold manufacturing approach exactly what you're looking for? Contact us to talk about your project today!