Want to discuss your injection mold project in depth? Have questions? Call or send us an email and we'll get back to you within two business days.
Mold Craft, Inc.
200 Stillwater Road, P.O. Box 458
Willernie, MN 55090-0458
Phone: 651-426-3216
Fax: 651-426-9472
Email: mc@mold-craft.com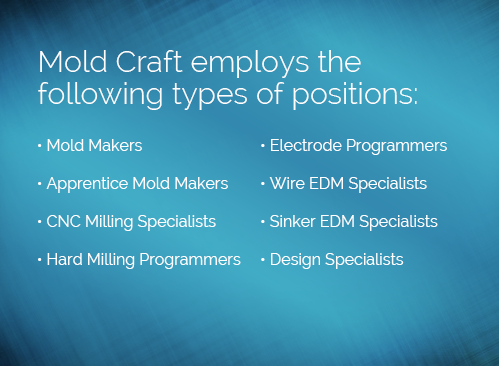 Careers
Mold Craft employs highly skilled & motivated individuals with Mold Making experience to build ultra precision, high volume, multi-cavity molds.
We employ the latest tools and technologies to design and build our molds.  Our Toolmakers and Specialist embrace these technologies.  Would you like to join us with a highly technical career?  We require a 2 year technical degree and or experience in the trade.  Feel free to email your application to mc@mold-craft.com or stop by Mold Craft to fill out an application and we will call you as positions become available.