Community Involvement
Giving back, building community
iWarriors: Helping Heroes Come Home
iWarriors.org was founded late in 2010 by co-owner of Mold Craft Tim Bartz with his wife Kim to honor severely injured returning members of the US Armed Forces by providing them with personalized iPads.
With assistance from members of the American Mold Builders Association, MoldMaking Technology Magazine, and others, we will support our service men in uniform by honoring their service.
Our wish is to continue raising funds through iWarriors.org to purchase iPads for returning amputee's who have given so much for our country. We hope that by creating the iWarriors website we will raise both funds and awareness for this great cause with the help of AMBA members, family, friends, and all who support our Armed Services.
School Outreach: Building the Next Generation of Mold Makers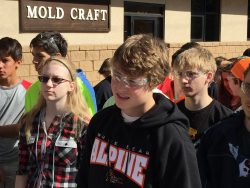 We're passionate about the art and craft of injection mold making at Mold Craft. And we believe it's important to pass on that passion to young men and women who may become the mold makers of tomorrow.
That's why Mold Craft supports trade schools within our region. By participating in job fairs, offering mold making scholarship funds through the AMBA and providing educational courses through local high schools and colleges, we offer high schoolers the chance to connect to the injection mold manufacturing industry on a tangible level.
Check out our blog for more stories about the way we're bringing the injection mold manufacturing trade into schools.