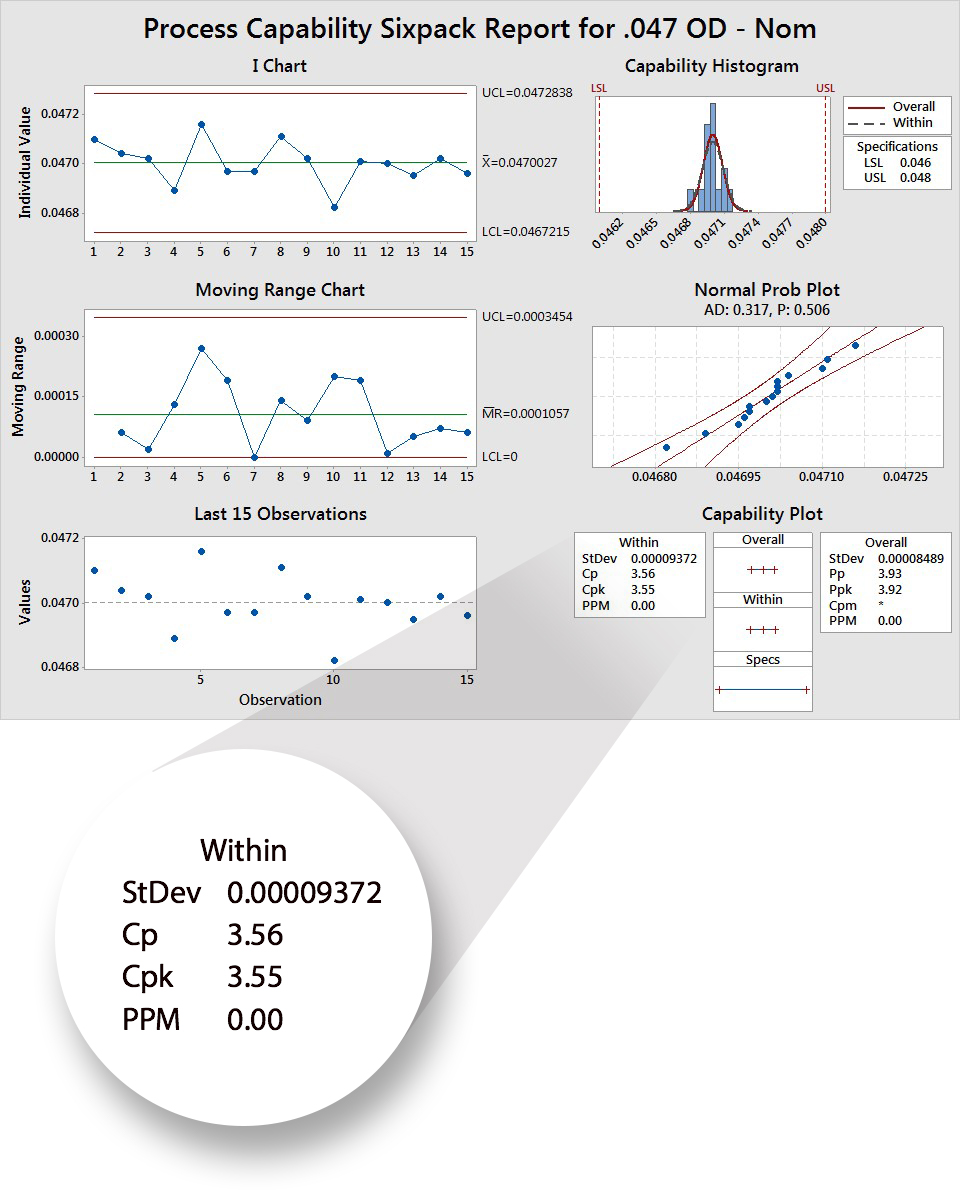 A Mold Craft, Inc. client wrestled with justification of manufacturing implantable medical device component part in North America or Asia. Cost versus quality was ultimately the key driver for the client's decision.
The project
The component is a micro molded part comprised of a stainless-steel electrode over-molded with liquid crystal polymer. The critical feature is the outside diameter, which must be held to 0.047+/- .001". The client called on Mold Craft to design and build a four-cavity mold for a vertical injection molding machine with shuttle table.

The key objective was producing a mold in which all four cavities produce an identical molded part, allowing cost prohibitive physical inspection can be reduced to an affordable minimum.

During the early stages of the design process, we discovered challenges beyond the micro size of the part. The shot size of the press was larger than ideal since the part size requirement of 0.0004 grams (less than a pellet of the LCP material overmolded on a .0012 gram metal insert) was needed.
The Mold Craft solution
We used our extensive micro injection mold design and building experience to design a mold with all the fits and clearances modeled in (Design for Manufacturing). Mold Craft micro injection mold design experts created fully-designed and detailed prints to take the guesswork out of the mold building process.

Initial design parameter required our technicians to burn a Ø.005" sub gate into the critical part diameter without interference to this diameter.

Before building the four-cavity mold, we built a single cavity insert to determine if steel changes would be necessary and to ensure the shot size of the press would provide acceptable parts. When testing was completed and it was determined both were acceptable, we duplicated three additional cavities to match the first cavity within ±.0002".
The final result
A micro injection mold capable of molding the critical part diameter with outstanding statistical capability, interchangeability of spares for all cavities and elimination of any flash on the over molded insert.
Client comment
"Mold Craft possesses tremendous capability beyond their level of precision to include phenomenal client service. Their plan to build the four-cavity mold by populating only cavity #1 and their coming out to witness and study the molding process greatly assisted mold development. The four-cavity mold allows us to overmold a critical part only .047+/-.001" in diameter with Ppk values greater than 3.18. This high capability allows for a very small lot sample size. The mold design has a perfectly balanced runner that has allowed us to open the process window and still provide no cavity to cavity variation."
Want to work with us?
Is our collaborative injection mold manufacturing approach exactly what you're looking for? Contact us to talk about your project today!